---
Sierpinski Tetrahedra at Grand Canyon
South Rim around Mather Point
---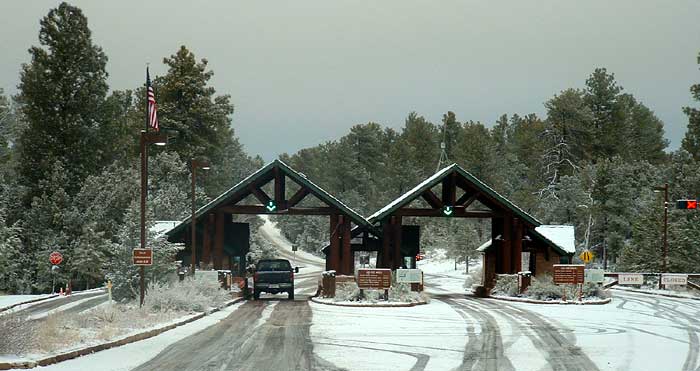 Grand Canyon National Park South Rim Entrance Station
The leftmost image shows a sign located at Mather Point. The center photograph was taken within several yards of and behind the sign, and its enlargement shows a thru-tetras image taken in the same area at the same time. The image on the right is a view of the Bright Angel cabins adjacent to Bright Angel lodge. All of the images on this page were taken between Mather Point and Bright Angel, and most of them were taken in the 0.6 mile/ 1.1 km stretch between Mather Point and the Yavapai Observation Station, shown on this shuttle bus map.

The snow on this page is from a trip taken on New Years weekend 2004/2005 to give a presentation about fractals in the Shrine of the Ages at GCNP. The Canyon section of the presentation focuses on a prominent pattern of mutually orthogonal joints visible in the Canyon walls and underfoot on the Rim. Once one knows what to look for, this pattern jumps out not only while visiting the Canyon in person but in photographs as well. The driving on this trip was dangerous, there was a lot of black ice, and I didn't dare to drive on Hermit's Route or Desert View Drive. Other snow pictures from this trip can be seen on my Follow-Up Fractals page. The pictures below were taken the day before snow hit on a trip in late 2002. My Grand Canyon pages for Hermit's Rest Route (aka Hermit's Drive) and Desert View Drive show the tetrahedrons in snow later on that same trip. Being from the Arizona desert, snow rates high for me! For many of you out there, our sunshine rates high.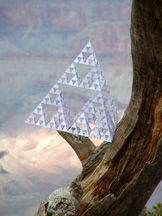 The light blurred pastels in the background of the above picture are the distant walls of Grand Canyon faded out by my camera. This set of pictures was taken on the first afternoon of a three-day trip on Thanksgiving weekend of 2002. At this time, the Canyon was clear and the weather was good. The next morning when I returned to this same spot to capture my Sierpinski Tetraheda in the sunrise, a terrific wind came up that prevented using the tetrahedrons. The wind quickly died down and brought in the quiet, stormy conditions seen on the other two Grand Canyon pages.



Two favorite things together, my granddaughter Sydney and Grand Canyon (at Mather Point), taken February 4, 2006.
Related pages:
Hermit's Rest Route
Desert View Drive
Grand Canyon presentation
Follow-up Images



The contents of this web page are © Copyright Gayla Chandler.
Permission must be sought for all but personal use for study or enjoyment.