---
Sierpinski Tetrahedra at Grand Canyon
on Desert View Drive
---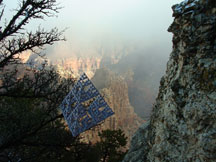 The pictures on this page were taken on Desert View Drive (a paved road leading to and from the East Rim of the Grand Canyon) on a trip made in the latter part of November 2002. It was a stormy time and the Canyon showed many moods over a three-day period. Mist could take over in what seemed like seconds and quickly clear out again.

These are the only pictures on this page not taken looking into the Canyon. They were taken on the other side of the road, a perspective that got very little of my attention over the three days. Even though all the surroundings were beautiful, it was hard to take my eyes off the ever-changing Grand Canyon.

Related pages:
Hermit's Rest Route
Mather Point vicinity
Grand Canyon presentation
Follow-up Images



The contents of this web page are © Copyright Gayla Chandler.
Permission must be sought for all but personal use for study or enjoyment.