---
Sierpinski Tetrahedra at Grand Canyon
along Hermit's Rest Route
---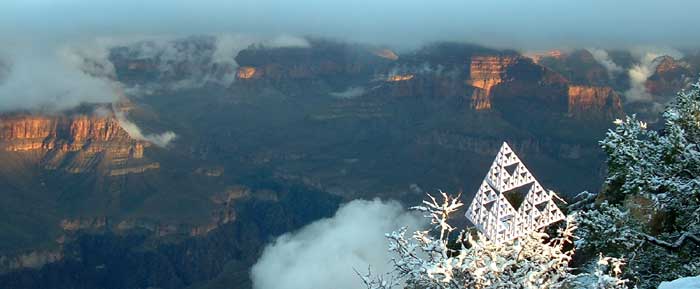 The above picture and the five that follow were taken at Powell Memorial as the sun was rising, on the morning of December 1, 2002. All of the images on this page were taken at different points along Hermit's Rest Route.


The image on the left is being used in a McDougal Littell Algebra 2 book by Larson that is coming out in 2006, ironically, though, not in the Chapter on fractals! A long tine has passed. It is now May 2012, and the publication has updated twice. The image is still being used for the book, and is still not in the chapter on fractals. I think that is kind of funny. :-)
The three images above were taken at the very end of Hermit's Drive. A lot of the snow from the night before had melted, the trees were no longer snow-covered, only the clouds were left.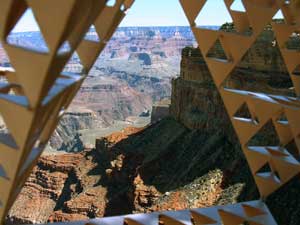 Taken March 15, 2003, this is a different perspective not only of Grand Canyon, but of the Sierpinski tetrahedra as well. It is what I call a thru-tetras image. I haven't been very successful with them, especially here, where the tetrahedrons are only inches from the lens and the background can be miles distant. I rarely get both foreground and background in focus. In this photo, the tetrahedrons are fuzzy.
Related pages:
Desert View Drive
Mather Point Vicinity
Grand Canyon presentation
Follow-up Images



The contents of this web page are © Copyright Gayla Chandler.
Permission must be sought for all but personal use for study or enjoyment.